Modern web design elements can improve your website user experience while giving it a fresh and trendy look that attracts visitors.
As of January 2021, there were 1.19 billion websites online, of which only 199 million were active. These are not surprising. Plenty of websites get launched every day with great enthusiasm and promise, but fewer survive due to a host of reasons.
Website categories include a wide spectrum – blogs, business pages, eCommerce platforms, social media, consumer internet platforms, and more. To keep your website and its contents relevant, it is important for website owners to audit their website for content, design, and technological changes.
Keeping up to date with modern web design trends will allow you to keep running your website successfully for the years to come.
The Role of Modern Website Design
Websites that survive and thrive, typically have some basic relevancy factors in place, no matter what category they fall into. They leverage modern creative website design to create superior user experiences for website visitors, who might be customers, consumers, and businesses.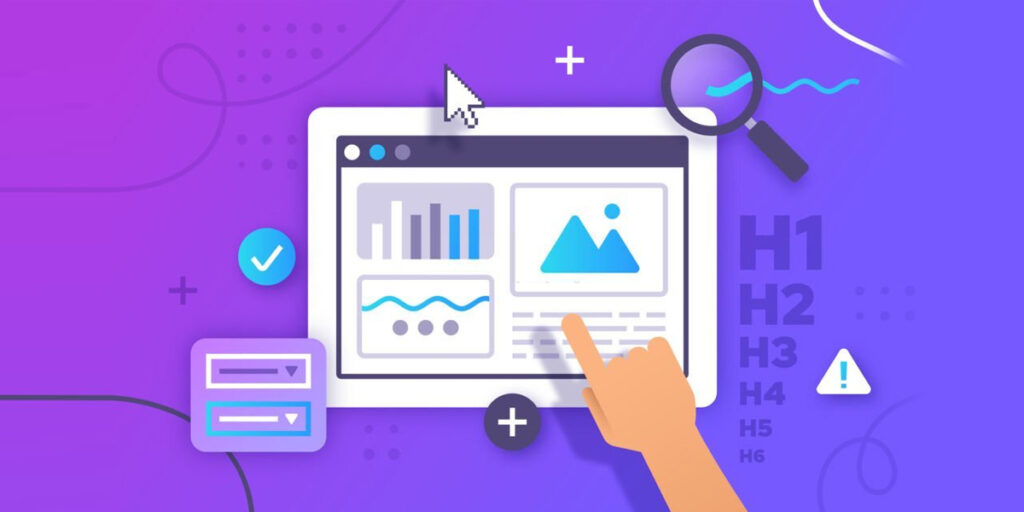 Modern website UI design enables businesses or individuals to build more effective online platforms that serve and drive business outcomes. Here's what to keep in mind to build an effective website with the latest design elements, or going a few steps further, a great website with modern UI design trends.
1. Choose a Responsive Design
Global smartphone subscriptions, today, have crossed 6 billion, and this number is expected to cross 7 billion by 2027. mobile subscriptions. This is an important statistic for web developers and UX/UI designers because the use of smartphones is nudging more and more Internet users to check most websites on their mobile phones. These numbers will only increase, with more consumers regarding their mobile as the primary point of access.
This means that it is extremely important for UI/UX design professionals to create a mobile-friendly modern website layout that can be viewed with ease across a spectrum of mobile devices. This is probably the most important and distinguishing characteristic of modern website design.
Known as responsive web design, this design strategy enables websites to adapt across screen sizes and devices, without reducing the overall surfing experience. The home page, headlines, images, text, feature videos, landing pages for digital ads, and any other brand design element automatically get resized based on the device specifics.
So, it won't matter if your users use an iPhone, Android device, or Galaxy phone. The experience will be optimal, across the spectrum of mobile devices.
The consequences of not building a mobile-friendly device can be pretty dire, especially if your business depends. Say you run an eCommerce platform, and the specific web page does not optimize when a customer shops via their mobile. This will result in customers dropping off, or leaving their carts full, without making a purchase, translating to a loss of business.
As newer mobile devices enter the market, web design professionals must invest in testing across mobile devices, as well as in browser testing, making changes in real time.
2. Offer Superior Usability
Modern web design layouts enable users to find what they are looking for in a few clicks. Ensure that every design element comes together to raise usability, and function flawlessly:
Website search engines must work well, letting users find what they are looking for quickly
Modern website navigation design must be clean so that users can find what they are looking for with a minimum number of clicks. Some websites make the mistake of offering up a long menu of options. However, it ends up taking up a lot of screen space, and some options can be cut off. By leveraging a hamburger menu, a button opens up shorter navigation menus. Hamburger menus save space while making important elements listed easier to access.
Another core value of modern web design is accessibility. Users struggle with a diverse set of difficulties based upon a disability, a learning difficulty, or reduced use of their senses. An accessible website is a problem-solving feature that makes websites accessible by serving all these users. For instance, font sizes can be increased without disrupting the layout by someone with sight difficulties. As we can see, accessible websites can attract a whole new demographic.
Intuitiveness is another feature you can employ to create modern eCommerce website designs where interfaces can predict what users are looking for. Here's a great example. If an eCommerce website can show results that showcase what the customer is looking for, they are more likely to push sales.
The interaction quotient of the website is another key aspect that needs consideration. You want users to leverage it to perform some kind of call-to-action: buy a product, read a blog, follow your brand on social media, engage through likes, comments, and shares, or reach out to you for collaborations. Modern and smart website design seeds the interaction tools, early on.
Ensure that there are no error pages, which tend to put off website visitors as it reduces trust.
3. Invest in Speed Optimization
As of October 2021, Monaco, Hong Kong, and Singapore were recorded to have the fastest broadband speeds in the world. As countries around the world experience faster Internet speeds, users expect e-commerce platforms, blogs, social media, and other types of platforms to load immediately.
Today, the bar has risen in terms of speed optimization for the average website. "Will this slow down the speed of the website" is a question that web design professionals must ask at every stage of development. Here's why.
Every time a website loads slowly, even by a few milliseconds, the bounce rate goes up, which leads to a loss of readership, customers, and business. Slow loading is said to be the number one reason for higher bounce rates.
Two, in the areas of eCommerce, 70% of customers say that slow loading speeds impact their purchasing decisions, according to research.
To stay ahead of the curve, website creators must ensure their websites load as fast on mobile as desktops and laptops. There are several steps to ensure that website speeds are optimal.
For instance, all images must be optimized.
Another important aspect is the hosting environment – get access to VPS hosting, a dedicated server, or sharing hosting, based on your needs and budget. This must be seen as an investment and not a cost.
Files must also be compressed.
UX/UI Website designers and developers must run speed tests to do regular checks on website speeds.
4. Enhance the Website's Visual Appearance
Visually appealing websites tend to be more inviting for website visitors. It can pique curiosities, inspire trust, communicate brand values, and generate leads. In a way, websites are the online identity of a business or individual, hence, the visual appeal of every web page needs careful consideration.
Modern website aesthetics are leaning more towards less clutter and clean and bold typography. Aspects such as the size of the text, colors of the text and background, fonts, and spacing play an important role in improving readability, while also blending in with the brand colors.
Brand identity is an important aspect of the website that sets the tone for user engagement. Incorporating the logo, a particular font that connects with the brand, About sections, terms & conditions, color palette, and the right tone of content, all contribute to building a strong brand identity for the website.
Another important tool for an uncluttered look is the use of white space. In the context of modern web design, white space refers to empty spaces between various design elements such as text, images, and icons.
Pages appear less busy, uncluttered, and easy on the eye. Cluttered websites tend to overwhelm users, who may not return to the website due to a feeling of cognitive overload.
5. SEO Optimization
This is yet another pillar for the survival and success of any modern-day website. Search Engine Optimisation (SEO) primes your website for future discoverability, which plays an important role in the success of your business. Here are some ways to improve your SEO ranking in the search results:
Build relevant content that is also authentic, useful, and articulated interestingly.
Make sure headlines are optimized and feature important keywords linked to your domain.
Internal linking is a powerful way to keep users on your website while linking to credible external websites builds credibility on search results.
Design plays a role in improving SEO ranking through proper attention to meta tags, and HTML coding hacks.
In terms of content, it's a good idea to build a blog section that can be updated regularly, to keep the website content dynamic. Websites with dynamic content rank better on Google.
Choose a CMS that lets content managers update content with ease, and keep all hygiene factors in mind.
Have a look at Do's & Don'ts of SEO:
| | |
| --- | --- |
| DO's | DON'Ts |
| Use Images | Avoiding Copy Pasting Content |
| Use Internal Links | Avoid Linking To Penalized Websites |
| Use Mobile-Friendly Platforms | Avoid Selling/Buying External Links |
| Site Mapping | Avoid Using Hidden Texts |
FAQs For Modern Web Design
What is Modern Web Design?
Modern web design is a style that is characterized by clean, minimalistic, and flat designs. This style is focused on the user experience and making sure that visitors to a website can find what they need quickly and easily. It is often used for corporate websites, e-commerce sites, and landing pages. Modern web design is focused on usability and functionality and often uses responsive design principles to ensure that the website can be accessed and used on any device.
What are the Main Elements to have in my Modern Web Design?
There are a few key elements that should be included in any modern web design in order to make it user-friendly, visually appealing, and effective.
The layout should be clean and organized, with easy-to-find navigation.
The design should be responsive so that it looks good on all devices.
The content should be well-written and relevant to the site's purpose.
The site should be optimized for search engines.
The site should be secure, with SSL encryption and other security measures in place.
Why is Modern Web Design Important?
Modern web design helps to create a website that is visually appealing and easy to use. It ensures that your website is responsive, meaning that it will work well on a variety of devices, including mobile phones and tablets. Modern web design can help to improve your website's search engine optimization, making it more likely to show up in search results.
Additionally, modern web design can help to make your website more user-friendly and easy to navigate to keep your visitors on your site longer and make them more likely to take the desired action.
What are Modern Web Design Principles?
For understanding the principles of modern web UI design, it is important to go back to the design basics. To make your website aesthetically pleasing for your target audience, use the following design principles:
Minimalism: Less is more when it comes to web designing. Minimalism makes your websites look clean, clutter-free, and easy to navigate.
White Space: As discussed above, clever use of white space can bring harmony to your design while highlighting elements that need your visitor's attention.
Color Palette: Use specific colors that reflect your brand identity and its values to encourage the right emotions among your audiences.
Pattern: Following a set pattern for your designs and content to simplify eye movement for easier and faster reading and grasping of your message.
Optimized Visual Files: Using file extensions such as .svg or .webp can significantly reduce your webpage's size allowing it to load faster. Faster websites retain more users compared to slower-loading websites.
Why are Minimalist Modern Website Designs Popular?
There are multiple advantages to designing a minimalist website for your brand or business.
Minimalist web designs are easier to turn responsive because of the lesser use of design elements
These websites give a clean, sophisticated look that screams elegance, professionalism, and accountability. All the attributes that most popular and trustworthy brands have.
Since minimalism mandates only keeping the most necessary elements, it makes navigation incredibly easier and faster for the users.
Minimally designed websites also take less time to load because they are comparatively lighter than other websites.
Plus, it compels user attention toward the elements, content, and images that are of utmost importance.
Would you want to create a minimalistic website design for your business? Let us know in the comments below.
The Takeaway
As Lindon Leader says, "I strive for two things in design: simplicity and clarity. Great design is born of those two things." The future of modern website design lies in stripping away unnecessary design elements, ensuring speed, and giving users what they are looking for in milliseconds. A slew of new technologies and concept designs are also being leveraged to optimize the modern website design and offer a superior user experience design.
These include Accelerated Mobile Pages (AMP), Single Page websites, API-first approaches, and blockchain. However, even without the use of sophisticated technologies, one can use simple rules to meet your business and personal goals, through your website.
How Can Yellow Slice Help 🚀
Yellow Slice is an award-winning modern web design firm excelling in UI/UX design and branding. We create beautiful and result-oriented web designs for our clients.
If you are looking to revamp your website to a modern look that attracts, engages, and encourages your viewers, then send us a message to get a quick consultation call on your project.
Reference
https://blog.hubspot.com/marketing/elements-of-modern-web-design-list