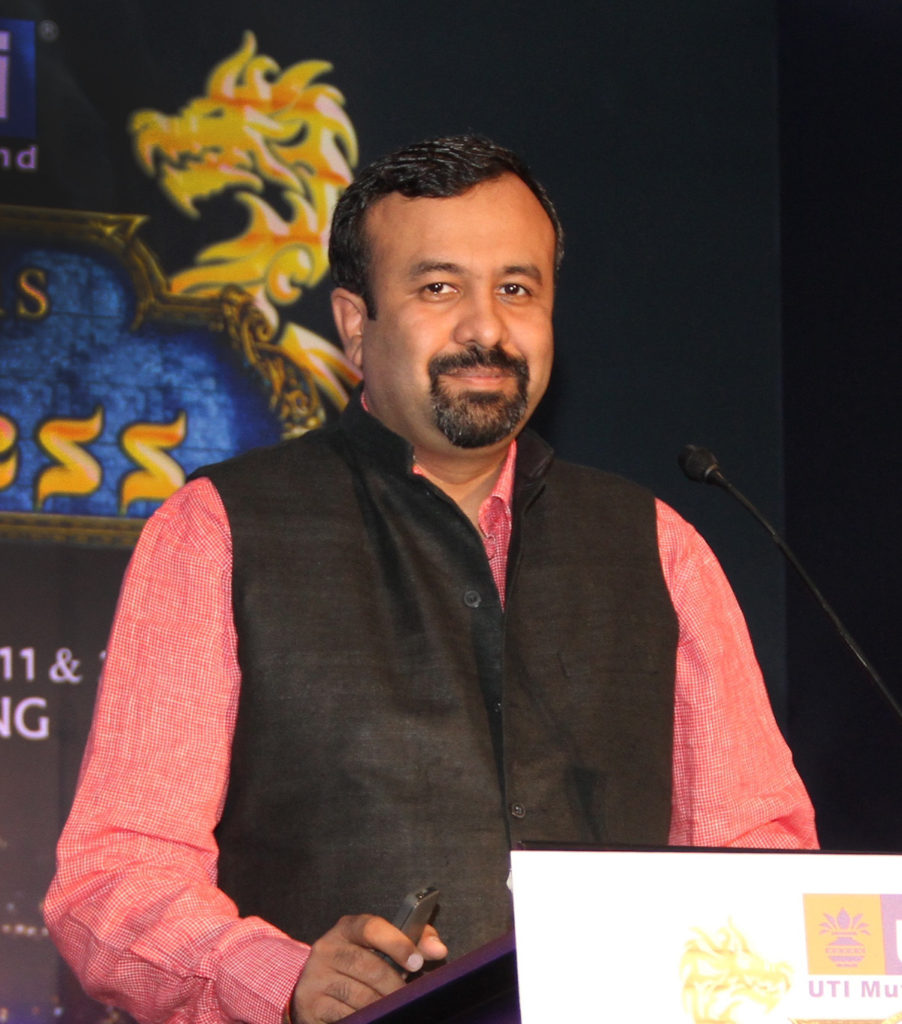 "Our conversation with Gaurav Suri took us on a ride to see how marketing has evolved since peak 80s, what role does UX play and what lies ahead in the future."
Having worked in multiple diverse sectors such as FMCG and finance, Gaurav Suri has witnessed and experienced significant transitions in the marketing sector. Today he holds the position of Senior Executive Vice President and Head Marketing at UTI Asset Management. Gaurav completed his Engineering from Regional Engineering College, Bhopal and went to pursue MBA from XLRI, Jamshedpur in 1993.

One look at his profile and anyone would know what a well read man he is! Having attended some of the post prestigious schools in the world, while talking about his passion for education, he mentions how he never let go of any opportunity to read, learn and grow.

For someone who even consumes content like books about human behavior and cultures, this one feels like a born marketer!

The moment he said this, we knew what lay ahead of this discussion: lots of insights and amusement!

Marketing and UX Over the Years:
Throwing back to his growing up years, Gaurav mentions how the 80s was a choice-constraint era where there was shortage of goods amidst the license raj and waiting periods that further restricted choices. About the 90s, he talks, about rapid urbanization and rising incomes when nuclear families became a way of life. Accessibility to the products drove the customers to the market space in the era when choices were few. Thus, function coupled with form both mattered for a product. He also talks about the "first moment of truth" in which the brand and the retail environment played a major role. He believes that with the early internet came mobility which made things more complex. While talking about mobility he mentions,
"Google came up with the zero moment of truth. The whole search process and variability of information has added another dimension to how people go about looking for products. So now it's a continuous and an ongoing cycle which is not linear anymore."
This he supports with his surveys, studies and work experiences. He mentions the evolution of social proof which was the medium for customers to know the user experience of a product in the choice constraint era.
Gaurav explained this with a prominent example of how there was a weird behavior in the purchase of bicycles in two different villages in Bihar which were 10 kms apart. On one hand, the majority of the people from the first village purchased HERO Bicycles and on the other hand people from the second village purchased AVON Bicycles.

This survey brought him to the conclusion how a good user experience of the bicycles by the villagers lead to a majority of people buying bicycles from the same brand. This also emphasized the importance of quality brands, getting it right the first time and importance of word of mouth .
On social proof he frames,
"In early times I still remember when color TV came in, social proof was your neighbourhood so as to which TV they had bought and how it was performing. If it was performing well, one would end up buying it."
Coming back to the current era, he stresses on the understanding of the simplification of choice architecture of a product and the process of building trust for a brand.
Gaurav compares the marketing instances of previous years by giving an example of packaged products where the labels on the products were only a regulatory requirement but currently it has become a crucial part to build traction for the brand (eg: adding organic for the health conscious), to influence the customer and use it as a tool to generate sales.
Marketing and User Experience: A Conflict or Partnership??
When asked about how one can maintain a balance between the user experience and marketing of a product considering the synergy between the both, he said,
"User experience and marketing are like the left brain and the right brain which need to be worked in an orchestrated manner where strategy, revenue, emotions and feelings all come together. An imbalance between them leads to compromising either of the two."
He believes that bringing value to the customer is necessary may it be marketing or user experience. What matters is how you do it in the most feasible way, provide value in the best possible way for the buyer and put efforts in connecting the brand to the customer's heart.
Serving the field of finance over the last few years, Gaurav has been observing the behavior of people towards financial conversations and how it has been evolving in the past few decades. He says,
"Earlier in the pre internet era (knowledge starved) , people were insecure when it came to their financial choices and had a sense of fear while making financial decisions. But with the recent developments, a plethora of financial options and products, people are still confused rather than being educated about finances and the financial products."
Gaurav trusts that simplification of a financial product is the leverage for selling a financial product. He highlights the efforts of his team on making a financial product. They make solutions where advice is embedded in the product solution like a child's career plan . A product which would give the customer the financial security of their future and a sense of control over their future .
He beautifully explained how UTI is leveraging problem solving and experience enriching plans for their marketing purposes.
Gaurav gives examples of Systematic Withdrawal Plan (SWP), FAMILY (Father and Mother I Love You) associated with retirement plans and children investing for their parents respectively .Currently they work on the motto "SMART, SIMPLE AND SECURE" for digital journeys that can be easily understood by the non-financially literate. He also talks about "UTI SWATANTRA", an investor education initiative which spreads awareness about the concepts of financial planning and benefits of investing in mutual funds. Mentioning a plan for people who cannot be easily contacted or connected Gaurav explains a feature that they made called "FRIEND IN NEED" where an individual would give alternative contact numbers of someone from their immediate network.
Talking more about UTI, he says,
"Simplicity drives trust and trust simplifies the decision making process and resulting experiences."
Dealing with Creative Differences:
Creative clashes cannot be eliminated completely in a marketing environment. But, they sure can be channelised.
Gaurav's opinion over this was that if the team sticks to the core objective of the organization, then there are very few chances of clashes being created. So since everyone is heading in the same direction, there wouldn't be any barrier for the team.
He also very rightly says,
"Creativity and emotions are the key to marketing campaigns."
Technology and Connections: A Boon for Businesses!
Digital interfaces have become the ultimate medium for building connections with customers. Gaurav mentions how technology helped in establishing connections with the new customers, keeping them updated about the products and talking about the benefit of the product.
He cited an example about how UTI has been using a feature that they have named 'USave' which allows people to park their idle money in liquid cash plan and this combined with 'Insta Redemption' feature which allows upto Rs 50,000 redemptions instantaneously instead of T +1 norm on their app and website. This specifically attracts short term investors looking to park their idle money and make it work harder . This has helped counter consumer objection of money being inaccessible and therefore helped adoption by combining two good features . The UI/UX for this feature has helped connect with the audience very well.
He also mentions the influence of technology in finance and investments. He talks about Systematic Investment Plans (SIPs) which previously had a lengthy procedure and included going to respective banks but how technology supported his organization to make the process easier for their clients. While talking about the advantages of technology he says,
"We now work on a digital process which is an auto debit mandate for a bank. And this now enables One-Click Investment."
These experiences will not be possible without creating a robust infrastructure back to front which involves building a foundational data layer , a middle layer with an APIframework which powers the business. . He states,
"For digital transactions the back-end capabilities must translate into very good front end experience."
Ageless Curiosity:
One message he puts out for every doer is "Be Curious!" Gaurav says,
"Curiosity is not only being hungry about knowledge but also about being intrigued by it."

– Gaurav Suri
He stresses that one should focus on things which drive and fascinate them. At the same time, being multi- dimensional is a must. He encourages the young generation to love the process and the journey that takes them from ignorance to knowledge / awareness to their destination.
The Future of Marketing: 
Gaurav believes that consumers today have more controlled interaction with sellers so it totally depends on the consumer what to buy when to buy and where to buy. He is also certain that bringing more and more context to the customer will be necessary to bring traction in the coming years. AI, UI, UX, Digital marketing, Machine learning, Analytics, Voice these all will play a key role in the future marketing he agrees.
He predicts that the customers of the future would be time-starved and will be pretty much in control. Besides, creativity will also continue to play the lead role in the marketing sector. He says,
"On a leadership level, more than ever it is about alignment. Alignment with the CEO of how you balance the short term and the long term."

– Gaurav Suri
Continuing to invest in the long term – people/ process/ technology while continuing to meet short term goals is the real challenge. Long term is a series of short term
We also had a fun rapid fire round with Gaurav!
What's your Bible? Books or Blogs?
Videos or Podcasts?
Which is the one book you would suggest everyone to read?
The Road Less Travelled by M.Scott Peck
Which is the first app you use every morning?
Calendar [To check birthdays and wish people ☺ ]
What is your favorite item to cook?
Punjabi Dishes like Chhole Bhature and Rajma.
Gas Stove or Microwave?
Who's your Marketing Guru?
Learn from everyone – Books , my colleagues , my first boss, even my daughter to teaches me nuances of tik tok , industry colleagues who are doing inspiring work and in particular some great work on communication by Cadbury and Amul
What's the key takeaway you would want the readers to take after reading this blog?
Keep customers the centre of your job. Be curious and observant. And have your feet on the ground.