Want to know what does the future hold for UI design? Read this blog to explore the upcoming trends & technologies that will shape the user experience in the next decade.
When it comes to computing, the User Interface, known as UI, has played an incredible role over the past few decades. It was the introduction of Operating Systems such as Microsoft and Macintosh that paved the way for this entity. With the launch of mobile OS such as Android and iOS, the role of UI design further widened.
While initially the role of UI was perceived as something limited to the person interacting with the technology, and the ease with which they could do it, today, UI design seems to have transcended towards the business end of things. Seems a tad surprising, doesn't it? Well, surprising or not, that's the way it is. Like everything related to tech, even UI design is undergoing a transformation, and how!
To understand the nuances of the future of User Interface Design, and how it might help your business thrive over the next decade, let us take a quick look at some of the ruling trends that the foreseeable future holds.
But, first things first!
What is UI Design?
User Interface can be defined as every visual aspect of a smart device, that enables the user to interact with the technology in a largely seamless manner. As far as User Interface design is concerned, it usually represents the way and mannerisms through which the user interacts with a given website or application. For what it's worth User Interface Design is fast becoming the key differentiator that gives a brand that much-desired competitive edge!😎
Why is User Interface Design Important for Businesses?
In recent years UI design has come to gain prominence due to the ever-increasing importance of design thinking in product development teams.
Today, User Interface Design is not just about the packaging of a digital product, but about the overall experience that the product offers to the end-user! Simply put, User Interface Design has now become synonymous with a product's inherent strategy.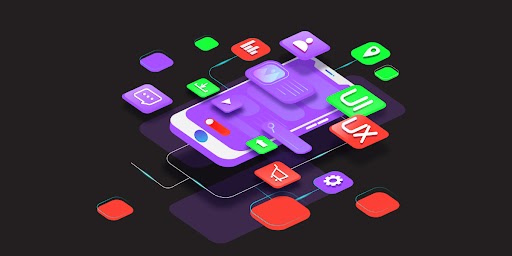 The Future of UI Design
Huge Images and Type Designs Will Be a Mainstay
As the smartphones screens got bigger, so did the appetite for high-definition images and large type designs, a trend that'll most likely continue in the future. To begin with, such large images, play a pivotal role in capturing the user's attention and retaining it. Moreover, these large elements give a neat appearance to the design, while also ensuring that the text, graphics, and images are more readable, thereby enhancing the user experience.
As far as type designs are concerned, they are not just large but truly simplistic – again with the same goal – increasing readability, and more importantly keeping the attention on the text, rather than distracting it by a font with too many curves or edges.
That said, it's never as easy as adding high-resolution images or hyper-large fonts. It is all about finding the precise balance of design aesthetics while getting the message across. Also, as video codecs keep on improving and Virtual Reality takes centre stage, it shouldn't come as a surprise that these large static images get replaced by videos in the near future, especially in headers and backdrops!
Voice User Interface (VUI) will Revolutionise Accessibility
Siri, Alexa, and Google Assistant have already established what a Voice User Interface is capable of doing. However, this is simply the tip of the iceberg. In the coming decade, it won't be just these bots that will function on Voice UI, but also a wide array of mobile apps and websites will also incorporate this revolutionary interface in a bid to boost engagement.
All of this combined is paving way for what can be called a screen-less experience in the coming future, which will enable seamless use of these apps and websites, even when users are physically unable to access their devices such as when they're driving, exercising, cleaning, or showering!
The use of Voice User Interface will be made rather ubiquitous as the Internet of Things progresses and makes its way into our homes and offices. All basic functions such as turning off lights, witching on the coffee machine, flipping channels on TV, heating up bath water will then be done using a simple voice command.
Considering this radical shift, businesses need to aggressively work towards incorporating Voice User Interface as an integral part of their user experience, lest they might be left behind!
And yes, before you point it out, we aren't oblivious to the oddity of talking about voice-based UI design, in a world that would probably be screenless for the better part of one's day.
3D Designing will Witness an Unprecedented Rise 📈
There is no doubt about the fact that Virtual Reality and Augmented Reality will rule the foreseeable future, and all of this simply won't be possible without the mastery of 3D Designing. Right from video games and mobile devices to manufacturing and travel, multiple industries will come to rely on the magic of Virtual Reality and Augmented Reality, not only to lure end customers but also to enhance efficiency and decrease redundancies in the business processes.
While tech firms and UI/UX design agencies and freelance designers are proactively working towards enhancing their collective skill set pertaining to 3D designs and related technology, the onus for introducing Virtual Reality and Augmented Reality as a part of the user experience, still lies on the shoulders of business owners and brands managers.
According to a study by Statista, By 2025, the global market size of UI/UX design is expected to reach $30.8 billion.
Gesture Recognition Will Take Lead
A modern-day laptop or smartphone user is only too familiar with the importance of touch-based interfaces such as scrolling, pinching, and tapping. But, as our gadgets get advanced, and as the users become less dependent on touching their screens constantly, gesture recognition will come into play.
Simply raising or directing a finger, moving the eyeballs, and other simpler gestures such as blinking, tilting, and shaking will help users interact with their devices, and with the apps and websites, they are using. Of course, these are only some primitive examples.
As the digital world continues to evolve, only time will tell how far gesture recognition can take brands and their end-customers, when it comes to reveling in a touchless experience.
Inclusive Design Will Become Crucial
Inclusivity has been the buzzword of the 21st century, and with the world becoming more global with each passing day, the emphasis on inclusive designs will only increase. Every business and their UI/UX team will be working diligently on ensuring that their platforms – both websites and social media handles, along with apps are tastefully designed to respect every single user, irrespective of their cultural, religious, regional, ethnic, and sexual orientations. 
When not adhered to, the lack of inclusivity may easily lead to the demise of a business, regardless of the quality of its offerings!
Micro-Interactions Will Rule the Game
As more and more bots come into place, customers are looking at netter interpersonal experiences, which can easily be offered via Micro-Interactions.
Airbnb can be considered to be leading the way in this aspect, as it ensures that all its guests can easily get in touch with the hosts as well as customer support executives almost instantaneously.
Of course, enabling such micro-interactions can only come from designing certain UI elements which subtly collect information from the user, and uses the same to provide them with a personalized experience like never before. This is surely easier said than done.
That said, while it may seem cumbersome to begin with, micro-interactions can easily help distinguish one brand from another, simply by tapping into a human being's most inherent need – the need to be heard!
We hope that we were successful in putting across some trends that UI Design will be experiencing over the coming years, and widen your understanding of the impact these trends may have on your brand or business!
As we move forward, the role of the UI designer will become more focused on creating meaningful and engaging experiences, rather than just designing interfaces.

Adobe
FAQ's About Future User Interface Design
What Does the Future hold for User Interface Design?
In terms of giving a unique user experience to the customers, hand-crafted User Interface Design will prove to be transformational. Right from the curation of offerings to ensuring product management and everything in between – will all be formulated via future UI design.
Moreover, UI Design will also play a key role in offering a seamless multi-platform user experience, which will further enable users to feel more connected to a brand or business. This experience will then be enhanced via tools like Augmented Reality (AR) and other such technologies. Simply put, UI design of the future will bring to the customers unparalleled experiences like those being offered by the present-day Siri, Alexa, and Google Assistant!
Why is it Important to Invest in UI/UX design?
Data suggests that companies that are primarily centred on design such as Apple, IBM, Coca-Cola, etc. outdid the industry's average performance by a whopping 228% from the year 2003 to 2013. The story of Google and Airbnb has also been quite similar!
It is the inclination and heavy investments of these companies in UI Design and User Experience on the whole, that they've made such leaps. Needless to say, following the suit and investing in UI design can help achieve comparable success for your business as well!
How Can a UI Design Agency Add Value to My Business?
In the current scenario, where a website or an application is almost always the first touchpoint for a customer to interact with a brand or business, a reputable User Interface Design Agency can help achieve the following goals –
Steering User Research
Performing UX Assessment
Conducting Usability Testing
Creating Speedy Prototypes
Ensuring the integration of Virtual Reality and Augmented Reality
Identifying Relevant Metrics
Bringing Innovation to the Table
Luring And Retaining New and Existing Customers